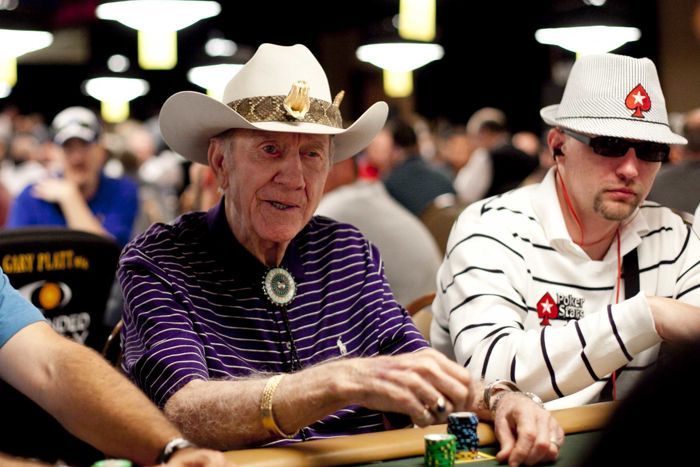 Amarillo Slim Preston – World's Greatest Player ! – Growing up and living in Texas all my life, I heard stories and tales of the greatest player in the world, Thomas Amarillo Slim Preston Jr. From beating Minnesota Fats at the pool with a broom to hitting a ball from golfing a mile across a frozen lake, or winning $300,000 from country music legend Willie Nelson playing dominoes, his journey to gaming greatness never fails to amaze me. He played poker with Presidents Lyndon Johnson and Richard Nixon, and drug lords Pablo Escobar and Jimmy Chagra, and of course, he played high-profile poker with porn kingpin Larry Flint, in which Mr.Flint lost a staggering $1,700,000
,
As a poker player, Amarillo Slim is on the verge of pure brilliance, winning 5 WSOP bracelets including the main event in 1972, forever leaving his mark in the history of poker. Amarillo Slim is more than just a poker player, he's a Texas treasure, a great storyteller and a global figure. Amarillo Slim Preston is an icon and folk hero known around the world as a man who bets on just about anything. That said, this site is the official site of Amarillo Slim Preston, the greatest player the world has ever known.

Slim's best bets

1.Play Minnesota Fats in a pocket with a broom.
2. Take 211/2 runs on the Jets and win a big bet on Broadway Joe in Super Bowl III.
3. Hit a golf ball for a mile on a frozen lake, inspired by Titanic Thompson.
4. Betting that a cat could catch a bottle of Coca-Cola.
5. Bet on which sugar cube a fly would land in an Arkansas prison.
6.To overtake a horse by a hundred meters (nobody ever said that the race was direct).
7. Hold a horse's tail for a quarter mile in San Angelo, Texas.
8. Farthest wide jump by top athlete at Rogers Municipal Golf Course.
9. Winning the World Series of Poker at Binion's Horseshoe in 1972.
10. Rafting down the River of No Return in winter in a suit made by Jacques Cousteau, a bet that got me $31,000 from Jimmy "the Greek "Snyder.
11.Beat Evel Knievel at golf with a carpenter's hammer and bet two out of thirty taxi drivers in Dallas would have the same birthday.
12. Shoot free throws with a soccer ball against a Hall of Fame basketball coach.
13. Defeat Bobby Riggs by playing ping pong with a frying pan.
14. Defeat a world champion table tennis player with a bottle of Coca-Cola.
15. Betting that a champion bowler couldn't bowl seventy blindfolded (and a driver with a minor physical disability could).
16.Find (a) person who could eat a quail a day for thirty days.
17. Beat Willie Nelson for $300,000 playing dominoes in Las Vegas.
18. Camel ride in El Mamounia Casino in Marrakech, Morocco.
19. Bob Stupak Coin Toss for $65,000 at Orleans in Las Vegas.
20. Playing one-on-one poker with Larry Flynt at the Fips Club in Los Angeles.
21.Bet on a prominent politician that George W. Bush would win the 2000 presidential election.

Amarillo Slims Famous Quotes

"Poker is a popular game…It's not the hand I hold, it's the people I play with."

"Look around the table. If you don't see a fool, get up, because you're the fool. lose when they sit down and I do my best not to disappoint any of them."

"I'm never looking for a fool. I'm looking for a Champion and I don't care."

"The population of Amarillo has remained the same for fifty years. Every time a woman gets pregnant, a man leaves town. .."

"I love you son, but I'll put a rattlesnake in your pocket and ask for a match."
–Amarillo Slim

Amarillo Slims The 10 keys to poker success

1. Play more with players than with cards.
2.Choose the right opponents. If you don't see an idiot at the table, it's you.
3. Never gamble with money you cannot afford to lose.
4.Be tight and aggressive; don't play a lot of hands, but when you do, be ready to move.
5. Always watch a poker game. As soon as you are there, you work.
6.Watch other players "say" before looking at your cards.
7. Diversify your playing so that others cannot pick up your words.
8. Choose your speed according to the direction of the game.Play slow in fast game, fast in slow game.
9. Being able to leave a loser behind, and for heaven's sake keep playing when you win.
10. Behave honorably so that you will always be invited back.

Amarillo Slim Preston

From Wikipedia, The Free Encyclopedia

Thomas Austin "Amarillo Slim" Preston, Jr. (born December 31, 1928 in Johnson, Arkansas) is a professional gambler, famous for his poker skills and for your bets. He won the 1972 World Series of Poker main event. gambling research with Doyle Brunson and Sailor Roberts. Each of them has won the WSOP Main Event Doyle Brunson in consecutive years, but only Slim is in five halls of fame proving his importance in helping bring the game and poker to the mainstream.

After his victory in the main event of the 1972 WSOP, he appeared on several talk shows and even had a small role in Robert Altman's film California Split, which made him moderately famous outside the world. poker. He has appeared 11 times on The Tonight Show, Good Morning America, 60 Minutes, I've Got a Secret, The Tomorrow Show, Panorama, Georgia Today and AM Los Angeles. , In 2006, Preston has a total of five WSOP bracelets, including two in Omaha, and has earned over $500,000 in tournament winnings.He was inducted into the Poker Hall of Fame in 1992.

His secret from appearing on I've Got a Secret in 1972 was losing $190,000 overnight playing poker.